Libba Bray Channels the Lost Generation in Her New Paranormal Series, The Diviners
It's not a gigantic secret that I love Libba Bray. Like "light candles to her image" kind of love. She's brainy, funny and a brilliant writer, as evidenced by not only her kick-ass
historical paranormal Gemma Doyle series
, but also
such amazing books as Beauty Queens
and
Going Bovine
. I loved Libba Bray before Libba Bray was cool.
So when I heard over a year ago that she was writing a new series, inspired by 1920s icons like
Zelda Fitzgerald
and
Dorothy Parker
, I practically wept with happiness. If anyone could capture the zeitgeist of the era and employ her brand of funny and poignant, it was Libba.
Why did it take me until page 180 to really begin to like this book then?
There were a couple of reasons. First, this book is dark and I mean DARK. No one is a happy person in this book and Libba Bray does the best job of capturing the frenetic attitude and sense of doom which characterized the
Lost Generation
since
F. Scott Fitzgerald
.
But these brittle, jaded, impossibly sad people don't make it easy to connect with them. Evie, the main character, jangles the nerves with her flippant flapper slang and odor of desperation as she tries to drink herself into oblivion, succumbing to the need for attention with her "gift" of reading objects which reveal their owner's secrets to her. It got her kicked out of her hometown in Ohio, and she's much more content to be spending her exile in Manhattan with a preoccupied uncle who runs an unsuccessful museum of the occult.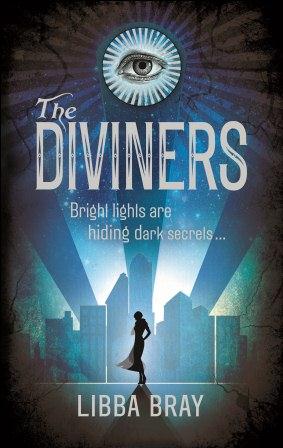 The U.K. version of the cover
While I struggled to like Evie (I finally warmed up to her around that page 180 when she started to show she had a brain investigating the mystery), I was also initally distracted by all the other characters in the book. Once again, you have to patiently wade through the first 200 pages before we begin to see below their surface, but the three-dimensional quality Bray endows them with is worth it. Memphis,
the Harlem numbers runner
trying to care for his younger brother; Theta, the stunning
Ziegfield girl
who lives in the same building as Evie and has a violent past; Uncle Will, a professor running a strange museum who seems to understand all too well the mysterious happenings going on; Mabel, the neglected daughter of radicals who tries to be good but is tempted by Evie and Theta's jazz baby ways; Jericho, Uncle Will's faithful assistant whose stolid demeanor hides an incredible secret; and Sam, the pickpocket fascinated by Evie who has an agenda of his own, namely finding the mother stolen from him as a boy.
Because all of these people, and many of the equally as well-drawn secondary characters, are "diviners" or people with supernatural abilities who will be crucial in the upcoming conflict, although we really don't know what form that storm will take, even after almost 600 pages. The last 400 pages of the book contain a real rip-snorter of a mystery (now that the foundation for the time period and character basics are laid) and,
since I imagine that this series is at least a trilogy
, that first third of the book is probably a reasonable dedication of resources.
Spanish language version
Let me tell you, there is some kind of a creepy mystery involved. A cult, gruesome murders described in detail, and the further unraveling of each characters abilities send nonstop chills down your spine. Alongside the mystery, we finally go in depth with each character, getting a sense of what makes them tick and, as in all her books, Libba Bray does not shy away from reality for her YA audience.
Theta's abuse is clearly detailed and as the attraction between her and Memphis ramps up, it's clear in this era that this budding romance could end in tremendous racial violence. The distrust of government - as seen through the eyes of Sam, whose mother is part of the mysterious Project Buffalo (to be explained in more detail in a future book) and Jericho who was literally made a human experiment, as well as the sinister blind man, Bill, who seems to have had repeated exposure to an early version of "Men in Black" - actually fits the tone of the Lost Generation post-
WWI
era perfectly.
Librarians: this book is going to be a hot property when
the new The Great Gatsby film comes out
in 2013 and everything twenties becomes new again. Libba Bray's research is meticulous and exhaustive and it shows - every detail is so pitch-perfect for this era that I just sat there, utterly dazzled reading all these amazing references. The afterword in the book says that
the companion website to the series
would have a bibliography, but I couldn't find one at this point on there.
This book possesses Libba Bray's usual writing skill, particularly in the historical details and slow reveal of character depths, and I'm going to definitely read the next book in the series, particularly after seeing how the book progressed in pacing. The story arc laid is sufficiently fascinating that I think this series has a lot of potential to live up to her reputation. I'm glad I stuck it out through those first 200 pages!
Book trailer from Little, Brown & Co