New Adult: It's Not Just the Sexy Times
Public domain image via Pixabay
While I enjoyed all my sessions at the ALA Annual Conference (woo-hoo, Chicago!), the best program I attended was facilitated by the fabulous threesome of Kelly Jensen, Sophie Brookover, and Liz Burns. These outstanding librarians took time out of their busy Monday morning to present "New Adult: What Is It & Is It Really Happening?"
YA with Sexy Times
This fun and information filled session gave me enough to ponder over the course of a few posts, but one of the stand out points made by Liz Burns in particular was the idea that right now, New Adult is currently synonymous with Contemporary Romance starring the 18 to 24 age group. She made a point of saying that this growing genre was more than just "YA romance with sexy times added" but instead included elements of living away from authority figures, beginning to conceptualize the independence that comes with college or living independently, while also exploring sexuality and relationships in a more frank and explicit way. It's all about forming an identity as an adult, and you really can't do that successfully until you start living away from home.
No judgement was offered by the panelists regarding this trend, but it was suggested that the genre might gain more legitimacy when readers (and librarians and publishers) began associating it with other genres, broadening the scope of the label. I think this is actually the usual stigma against romance and when you add in more explicit sexual content, someone is going to get their panties in a bind about it, but I understood what she was saying. As much as I hate it and I feel it's very anti-woman (if men were the predominant readers of romance it would be a mark of an intellectual mind to have your shelves filled with it), the public has trouble thinking young adults (or new adults) falling in love has any kind of value. Luckily my days are largely spent with the intended audience, so I can enjoy like-minded enthusiasts who do think this is valuable topic!
Liz actually went on to say that the much bigger issue surrounding the perceived legitimacy of New Adult was the fact so much of it is currently self-published, with the accompanying poor editing this entails, but she imagined that as publishers finally opened their hearts and wallets to the authors with books to sell, the quality of the work should rise accordingly.
But for now, I wanted to make the point that there are certainly books and series which fall outside of contemporary romance (and do not have two eighteen year old laying down with each other or embracing with plenty of skin showing). Here were a few ideas that came to mind.


New Adult Beyond Contemporary Romance
So what books might fit the definition of New Adult but fall outside the realm of Contemporary Romance? Here are a few that were discussed at the ALA session or that occurred to me would feel right at home in this category.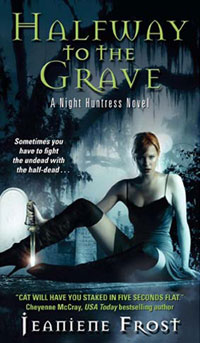 Halfway to the Grave
by Jeaniene Frost and it's immediate sequel,
One Foot in the Grave
, is fabulous urban fantasy paranormal romance, with the nineteen year old Cat Crawfield, the half-vampire offspring of a woman raped by a newly turned vampire, bent on teaching herself how to kill the undead. She does a pretty good job of it, too, but finds her world derailed when the incredibly hot and deadly 300 year old master vampire Bones, catches wind of what she's doing. While I would call the entire series urban fantasy, the first two books really fit the New Adult category. The romance with Bones is on equal footing as Cat's acceptance of herself and the fight between good/evil and the first book does NOT have a happy ending (I recommend getting both of them if you're beginning to read this series to prevent a bad case of
agita
). The sensuality level is very high, but it's extremely appropriate as Bones was a professional male prostitute before he was turned (and the man has skills, let me tell you). Their sexual intimacy is a big metaphor for Cat breaking down the walls she's built to protect herself over the years and vital to the storyline. So "neh" anti-sexy times contingent!
Diana Peterfreund's Secret Society Girl series
has several of the New Adult markers, and clearly Dell Publishing is smart enough to know this as they have rewritten the introduction on Goodreads and elsewhere to this series to include a reference to "fans of
Beautiful Disasters
." The Ivy League college setting, the protagonist's struggle to define herself and often fight for her education amid the demands of the secret society to which she belongs and finally the drama surrounding various mysteries and her romantic entanglements put this firmly in the New Adult genre without being contemporary romance.
Peterfreund even comments on her blog
about how she was contacted by numerous would-be new adult writers eager to hear her tips since this series was so clearly New Adult, yet she makes a point of how she has purposely focused on writing about younger teens
or
about late twenty something, specifically because the New Adult market wasn't robust enough to support sales of literature for this age group.
Historical fiction is where New Adult hits a roadblock, largely because the cultural definition of adult has varied throughout time. Yet if we dissect the markers listed above for the genre, there will undoubtedly be historical fiction or other genres with historical elements that fit this category. One series that immediately came to my mind was
The Agency series by Y. S. Lee
. In the first novel,
A Spy in the House
, Mary Quinn is seventeen and has graduated from her training at Miss Scrimshaw's (where she has been groomed to be a spy). Posing as a companion to a spoiled young woman gives her the entrance she needs to the suspicious parties in question, but a keen-eyed and handsome engineer becomes first an obstacle and then an unlikely ally. While the burgeoning romance is a strong plot element, far more compelling in this series is Mary's posing as "Irish" when in actuality she is half-Chinese. Originally condemned to death as a child by the arcane Victorian justice system, she wrestles with her identity and the confines of society which would eagerly dictate her future. I love this series (so much so that purchased the third book in England since it came out months ahead of the US date and had it shipped to me) and it's readily apparent how the quest for identity makes this series - which I believe takes Mary up to about age 20 or so - New Adult.
Finally, it was mentioned in the session that all too often New Adult has become synonymous with "white, college bound" protagonists (even the books with the hero being the underground MMA fighter who also has a band - but that's for another post!). Yet, a close examination of "street literature" or what is also called "urban fiction" puts it firmly in the New Adult category. These young men and women are usually finished with high school and are in the process of negotiating their future in a gritty urban setting. African American and Latino characters are the norm and crime and poverty motivating factors for behavior and choices. Authors like
Nikki Turner
,
Ashley Antoinette Snell
, and
Deja King
are incredibly popular. Often, the protagonists are determined to make something of themselves or help their families, often while defining what real love looks like.
I'd be interested to hear what other people feel fall into New Adult but are not contemporary romance. What is out there that would appeal to this transitioning age group?