Untraditional Book Formats Prove Popular...But What Does It Mean for Schools Moving to Digital Collections?
The Scrapbook of Frankie Pratt by
Caroline Preston (New York: HarperCollins, 2011)
I've been having quite a few conversations recently involving how or when independent school libraries will move over to a collection model based largely on ebooks. A lot of factors drive this conversation - wanting to remain competitive in the market, the many schools moving to a 1:1 BYOD model for computing, etc. - but administrators often seem eager to get rid of print.
A mistake? Yes and no.
My first thought is automatically cost. While some companies actually have you 'buy' the book using a one-time fee, you are still at their mercy since access is determined by them (you don't physically store the book on a server you own). The majority of ebooks, however, are made available using subscription services like
Overdrive
or various databases, meaning that you are paying thousands of dollars each year to provide your students with access to these volumes.
Thousands of dollars a year can create a pretty good print collection at any school, but you do have the limitation that only one student at a time can use the print volume you've purchased (some ebook providers have a single check out system as well, but others allow unlimited access). But these pros and cons aside, if a school (for various reasons) chooses to move to a more electronic collection, I still feel that a portion of the collection should be available in print form. Why?
Serendipity
and
format
result in greater
access
.
Serendipity
is the first issue. Particularly with recreational reading, teenager selection styles seem to be geared toward wandering stacks and displays and picking up books with attractive covers to read the dust jackets. I think there is also a tactile pleasure for many students (
tactile-kinesthetic learners
, maybe?) to handle books when making a decision to read them. Think of how many students love to go to Barnes & Noble and sit in comfy chairs with a stack of books to browse and a coffee - there is something about that shopping experience which appeals. You have one book in your hand and suddenly a few others in the vicinity look terrific, so you read those. Serendipity resulting in
more
recreational reading has taken place due to instant access.
I do think that sites like
Goodreads
, its YA sister site
Teenreads
,
Shelfari
, and
LibraryThing
are taking the place of (or highly supplementing the process) of this browsing experience. More and more students are coming to the library with a list of books they've found via
Amazon
or one of the above sites. I personally push Goodreads like there is no tomorrow since I think its algorithm for suggesting books after you've rated the ones you've read is the best out there.
As a collection development and display tool Goodreads can't be beat either. Want a reminder of all the football fiction books for a Super Bowl display? There's probably a list on Goodreads to help you. And since in the end what readers want most in a sense of community, the review process on these sites have a built in sense of seeing what people really like or dislike about a book or series, with users easily able to friend others and see what they are reading as well. In fact, when you look at a book to read more about it, your Goodreads friends have their reviews and ratings show first on the book's page. Really helpful.
Even if serendipity can move to a more electronic version of itself, there is the other sticky issue of
format
. Most fiction and recreational nonfiction translates very well to an e-reader format. It's just one page after another of text, right? As long as that's the case, the reader is just processing that text, but in the case of nonfiction with figures or images, the image can get really wonky (sidebars are notorious for wreaking havoc). There is also a growing body of fiction and nonfiction which uses nontraditional formatting for a different experience and this can be a huge problem when translated to an e-format, if it gets translated at all.
This double page format with varying type size would be
a major pain to negotiate with an ereader, which is
probably why you can't buy it that way.
Case in point, the book I placed up at the top of this post,
The Scrapbook of Frankie Pratt
by Caroline Preston which isn't available in ebook format for good reason. I enjoyed this pictorial work of historical fiction centering on a young woman from Cornish, New Hampshire with dreams of becoming a writer. The main character chronicles her journey to Vassar, then to Greenwich Village and Paris, by using typed text as well as ads and other snippets to illustrate her journey. Despite a small amount of text, a very complete picture of this story is transmitted but e-reader audiences would be denied the experience.
Chopsticks: A Novel by Jessica Anthony and Rodrigo
Corral (illustrator) (New York: Razorbill, 2012)
An incredibly popular book in my library right now is the book
Chopsticks
by Jessica Anthony, which illustrates a tempestuous love story between a piano prodigy and the boy next door. Similar to Preston's book, the design is evocative of a scrapbook with the pages slowly revealing the madness of the young woman whose world unravels for myriad reasons. Students cannot get enough of pouring over the images and text of this story. With a size that is definitely unusual in its dimensions (about 8 by 9 inches), this book stands out from others on the shelf, by format and by ambition. Naturally, it also is not available in ebook format despite its popularity.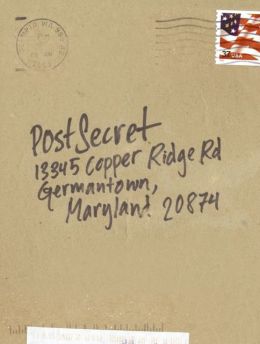 PostSecret by Frank Warren (William Morrow, 2005)
The first in a popular series.
Both of these volumes' appeal remind me of the nonfiction
PostSecret series
which students not only read regularly but also
follow the website
with enthusiasm. Started by Frank Warren as a community art project, contributors send him anonymous postcards with highly personal secrets on them, with the result being a moving, funny, poignant and disturbing journey. Multiple volumes are the result and I've been begged to buy all of them (I happily acquiesced). Listening to students discuss not just the text but the artwork always reminds me of discussions of
the importance of visual literacy
- why not start with fun fiction and nonfiction to get students used to interpreting images and reading deeper into an author's intent? While other visual literacy exercises would be available via a tablet computer or laptop, some e-readers clearly would not lend themselves as easily to this skill development. With all of the above books unavailable in any electronic format, students solely dependent on a digital formats for reading via their library would be denied access to these works.
And in the end, that's what librarians are all about -
access
. Access to great information, great recreational reading and caring adults who can help students and teachers.
Until access is more guaranteed digitally (and perhaps more affordable in that format) to as many options as exist in print, school libraries will undoubtedly need to be a hybrid of print and electronic options.
In a world where we feel digital formats open up our horizons, it's vital to remember that, as of right now, they limit them as well. Our job as librarians is to be ever vigilant so we can guarantee the joy of serendipity (electronic and in person), a variety of formats and continual access to the best information to our communities.